Welcome to the Flat Free Tire Sealant Information Site
If you are looking for a business opportunity, we have tremendous distributorship opportunities available in the United States and internationally. You can make money while selling safety and peace of mind. Flat Free is the only automotive product available that protects the consumer rather than the automobile.
You may be wondering, What is Flat Free?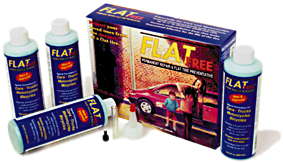 We have a wide variety of programs available, including a special warranty program for automobile and RV Dealers. Flat Free also has an industrial formulation specifically designed for use heavy-duty machinery and off-road equipment. Not only is our sealant top quality, but our wholesale prices are the best in the industry.
Flat Free is manufactured by American Sealant International, Inc. We also offer private labeling of tire sealants in a variety of formulations. ASI also offers the DiamondSeal and DiamondSeal RV programs designed exclusively for automobile and RV dealers.